Looking for Knee Panel (doghouse)
06-01-2016, 12:31 PM
Looking for Knee Panel (doghouse)
---
I know this part is discontinued by AMG so I'm trying to an individual who might have one they never installed.
Hummer Parts Guy | HUMMER H1 5745411G
I'm looking for the 1995 version of this knee panel expansion.
Any ideas?
Thanks!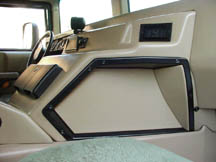 06-01-2016, 04:52 PM
Join Date: Sep 2007
Location:
Posts: 14,558
---
eBay or Craig's List. Might take awhile to run across one.
06-01-2016, 11:10 PM
---
If you call anyone for parts and they tell you it's not available call HPG Hummer Parts Guy!! If dave tells you it is unavailable it is unavailable. HPG is the shiznit.

Plan B...worst cas scenario. Find a good metal fabricator (this sounds easy but is not easy to do). Have them measure the hole to cut out and make a custom panel. I would make at least two as im sure someone will buy the other.
06-02-2016, 05:04 PM
---
These aren't discontinued.....but there is a story.

These were made by some dude in his garage at home or whatever. This is who AMGeneral bought them from (no, I'm not kidding). Then he died. Now his son makes them one or two at a time but if you call the super-duper secret phone number for this "vendor" a 15 year old girl answers (she got her phone when grandpa died or something) and you have to ask her to have her Dad call you to order these parts. Then it takes months.

I have a vendor who is working on reproducing interior parts with a vacuum former (how they were originally made) and he is just going to make the doghouse [the way they should have been made in the first place] with this knee panel cut out in them. I don't really want to be the end vendor on this so it will likely be sold by another vendor who we have a great relationship with (and since you should never end a sentence with a preposition so instead I'm ending it with a parenthetical citation). I have almost two complete interiors (one wagon, one HMC4) and we hope to make all of these parts available (made out of better materials that before) sometime in the next 6 months or so.
02-08-2019, 04:27 PM
Join Date: May 2018
Posts: 2
---
BigDog: I am a new H1 owner looking to install the KneePanel. Do you have to pull the entire dog house out to make this modification? or can I just cut out & install the panel? I recently purchased this from Predator Inc. They made a new mold and re-producing it. Thanks.
Thread
Thread Starter
Forum
Replies
Last Post
Private 'Wanted' Classifieds
Private 'Wanted' Classifieds